REC: CardioClinics
See more

Indexed in:
ScienceDirect, Scopus, Latindex, Embase y Dialnet
ScienceDirect, Scopus, Latindex, Embase and Dialnet
See more
Follow us:
Subscribe:

SRJ is a prestige metric based on the idea that not all citations are the same. SJR uses a similar algorithm as the Google page rank; it provides a quantitative and qualitative measure of the journal's impact.
SJR
0.104
SNIP measures contextual citation impact by wighting citations based on the total number of citations in a subject field.
SNIP
0.053
See more
Articles in press
Propofol sedation administered by cardiologists in echocardiography studies
Chi-Hion Li, Violeta González-Salvado, Ester Bertolí, David Viladés, Martín Descalzo, Francesc Carreras, Rubén Leta, Juan Cinca, Helena Capellades, Luisa Cueva, Pilar Paniagua

Available
online 4 April 2021
Recomendaciones para mejorar el control lipídico en pacientes en prevención primaria. Documento de consenso de la Sociedad Española de Cardiología
Vivencio Barrios, Carlos Escobar, Manuel Anguita, Vicente Ignacio Arrarte Esteban, Raquel Campuzano Ruiz, Juan Cosín-Sales, M. Isabel Egocheaga Cabello, José María Gámez, Carlos Guijarro, José M. Mostaza, Juan Carlos Obaya Rebollar, Vicente Pallarés-Carratalá, María Seoane Vicente, Pedro Valdivielso, Ángel Cequier

Available
online 20 March 2021
Temporary pacing in ST-segment elevation myocardial infarction complicated with high degree atrioventricular block
Carlos Ferrera, Luis Eduardo Enríquez Rodríguez, Francisco Javier Noriega, Luis Borrego, Victoria Cañadas, Pilar Jiménez Quevedo, Nicasio Pérez Castellano, Antonio Fernández Ortiz, Julián Pérez Villacastín, Carlos Macaya, Ana Viana Tejedor

Available
online 19 March 2021
Read Articles in Press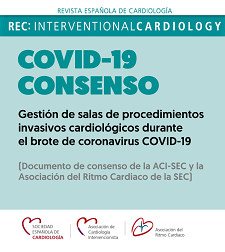 Current Issue
Issue
Vol. 56. Issue 1.
Pages 1-70
(January - March 2021)
Editoriales
Artículos originales
Artículos originales
Miocardiopatías e insuficiencia cardiaca
Artículos originales
Arritmias y estimulación cardiaca
Artículos originales
Epidemiología, factores de riesgo y prevención
Artículos especiales
Artículos de revisión
Imágenes en cardiología
Cartas científicas
Rincón del residente