Article information
Abstract
Full Text
Bibliography
Download PDF
Statistics
Special issue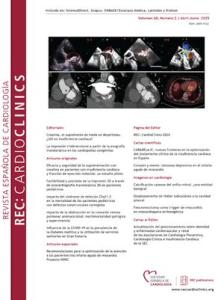 This article is part of special issue:
Vol. 58. Issue S1
Temas de actualidad 2022
More info
Resumen
La patología aórtica agrupa diversas entidades de gran complejidad diagnóstica y terapéutica. El abordaje de los pacientes con aortopatías requiere la colaboración y coordinación de las distintas disciplinas del área cardiovascular. Se resumen en este artículo las publicaciones más importantes en relación con la patología aórtica publicadas en el último año.
Palabras clave:
Aorta
Síndrome aórtico agudo
Cirugía cardiovascular
Tratamiento endovascular
Imagen cardiovascular
Abstract
Aortic pathology includes several complex diseases. Diagnostic and therapeutic approach of aortic patients requires a great effort of collaboration and coordination between cardiovascular specialties. This article summarizes the main publications in the field of aortic pathology during the last year.
Keywords:
Aorta
Acute aortic syndrome
Cardiovascular surgery
Endovascular therapy
Cardiovascular imaging
Article
These are the options to access the full texts of the publication REC: CardioClinics