Article information
Abstract
Full Text
Bibliography
Download PDF
Statistics
Special issue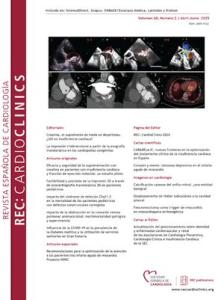 This article is part of special issue:
Vol. 58. Issue S1
Temas de actualidad 2022
More info
Resumen
Las enfermedades cardiovasculares son la principal causa de muerte en los países occidentales. Los avances terapéuticos con el desarrollo de fármacos cardiovasculares han supuesto grandes avances en el pronóstico de los pacientes con cardiopatías.
El desarrollo de fármacos que consiguen reducir drásticamente el colesterol unido a lipoproteínas de baja densidad, o de antidiabéticos que han pasado a ser un pilar fundamental en el tratamiento de la insuficiencia cardiaca, nos plantea un horizonte muy atractivo en el tratamiento y control de los factores de riesgo cardiovascular y de los pacientes con cardiopatías.
En este artículo se revisan una serie de fármacos cardiovasculares recientes de gran utilidad para el cardiólogo clínico, sin dejar de lado la importancia de la adherencia terapéutica.
Palabras clave:
Farmacoterapia cardiovascular
Cardiología clínica
LDL
Diabetes
Insuficiencia cardiaca
Adherencia
Abreviaturas:
c-LDL
IC
iPCSK9
iSGLT2
IC-FEr
IC-FEp
Abstract
Cardiovascular diseases are the leading cause of death in western countries. Therapeutic advances with the development of cardiovascular drugs have led to great advances in the prognosis of patients with heart disease.
The development of drugs that drastically reduce the low-density lipoprotein cholesterol, or antidiabetics that have become a main pillar in the treatment of heart failure, take us to a very attractive horizon in the management and control of cardiovascular risk factors and patients with heart disease.
In this article we review a few recent cardiovascular drugs very useful for the clinical cardiologist, without neglecting the importance of therapeutic adherence.
Keywords:
Cardiovascular pharmacotherapy
Clinical cardiology
LDL
Diabetes
Heart failure
Adherence
Article
These are the options to access the full texts of the publication REC: CardioClinics