Article information
Abstract
Full Text
Bibliography
Download PDF
Statistics
Special issue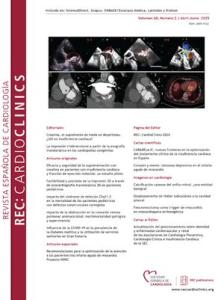 This article is part of special issue:
Vol. 58. Issue S1
Temas de actualidad 2022
More info
Resumen
Durante este último año se han publicado múltiples estudios de máximo interés en el campo de la insuficiencia cardiaca. Hemos realizado una revisión sistemática de las publicaciones más relevantes, desde el 5 de septiembre de 2021 hasta la misma fecha de 2022, seleccionando aquellas publicaciones más destacadas y ordenándolas por bloques temáticos. Se incluyen referencias a la guía norteamericana sobre insuficiencia cardiaca y a las guías conjuntas de las sociedades europeas de cardiología y respiratorio en hipertensión pulmonar, ambas publicadas en este periodo.
Palabras clave:
Insuficiencia cardiaca
Hipertensión pulmonar
Tratamiento médico
Trasplante cardiaco
Diagnóstico y factores pronósticos
Abreviaturas:
FEVI
IC-FElr
IC-FEp
IC-FEr
iSRAA
Abstract
Multiple studies of maximum interest have been published in the field of heart failure during the last year. We have carried out a systematic review of the most relevant publications (from 05-09-2021 to 05-09-2022), selecting the most outstanding publications, ordering them by thematic blocks. References to the American guidelines on heart failure and the joint guidelines of the European societies of cardiology and respiration in pulmonary hypertension, both published in this period, are included.
Keywords:
Heart failure
Pulmonary hypertension
Medical treatment
Heart transplantation
Diagnosis and prognostic factors
Article
These are the options to access the full texts of the publication REC: CardioClinics