Article information
Abstract
Full Text
Bibliography
Download PDF
Statistics
Special issue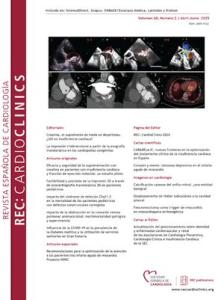 This article is part of special issue:
Vol. 57. Issue S2
Actualización y novedades en cardiología. Visión del cardiólogo joven
More info
Resumen
La amiloidosis cardiaca (AC) es una enfermedad miocárdica infiltrativa provocada por el depósito intersticial de material amiloide. Su forma más frecuente es la causada por la transtirretina (AC-ATTR), concretamente su subtipo no hereditario o wild-type (AC-ATTRwt). Para diagnosticar esta enfermedad es imprescindible establecer adecuadamente su sospecha basándonos en datos aportados por la historia clínica, la exploración física y algunas pruebas complementarias fundamentales. La confirmación diagnóstica de AC-ATTR puede conseguirse en la mayoría de los casos realizando una gammagrafía con bifosfonatos y evaluando la existencia de un componente monoclonal en sangre y orina; en el resto va a ser necesario llevar a cabo estudios histológicos. En todos los pacientes con AC-ATTR ha de realizarse secuenciación del gen de la transtirretina. En cuanto a su tratamiento, diferenciamos dos aspectos fundamentales: un tratamiento general de las manifestaciones derivadas de la afectación cardiaca y un tratamiento específico dirigido a frenar el proceso amiloidogénico.
Palabras clave:
Amiloidosis cardiaca
Transtirretina
ATTR
Diagnóstico
Tratamiento
Abstract
Cardiac amyloidosis (CA) is an infiltrative myocardial disease caused by interstitial deposition of amyloid fibrils. The most common type is caused by transthyretin (ATTR-CA), specifically the non-hereditary subtype, also called wild-type (ATTRwt-CA). For the diagnosis, it is essential to have a high index of suspicion based on the clinical history, physical examination, and some fundamental investigations. Diagnostic confirmation of ATTR-CA can be achieved in most cases non-invasively by performing a bone scintigraphy and evaluating the presence of monoclonal proteins in blood and urine. In the rest of cases, histological confirmation will be required. In all patients with ATTR-CA, transthyretin gene sequencing must be performed. There are e two fundamental aspects for the treatment of ATTR-CA: supportive treatment of the manifestations derived from cardiac involvement and a specific treatment aiming to stop the amyloidogenic process.
Keywords:
Cardiac amyloidosis
Transthyretin
ATTR
Diagnosis
Treatment
Article
These are the options to access the full texts of the publication REC: CardioClinics