Article information
Abstract
Full Text
Bibliography
Download PDF
Statistics
Special issue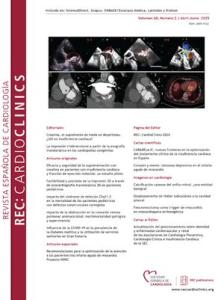 This article is part of special issue:
Vol. 57. Issue S2
Actualización y novedades en cardiología. Visión del cardiólogo joven
More info
Resumen
El CardioMIR, el Congreso de los Jóvenes Cardiólogos, es una reunión científica donde se abordan, desde un punto de vista clínico y eminentemente práctico, los aspectos más relevantes y novedosos de la cardiología. La tercera edición del Congreso de los Jóvenes Cardiólogos, celebrada en la ciudad de Valencia durante los días 29 y 30 de septiembre de 2022, congregó alrededor de 400 entusiastas de la cardiología, en su mayoría residentes de cardiología, con el fin de conocer las últimas novedades en enfermedad cardiovascular. El objetivo del presente artículo es presentar un resumen de los principales temas abordados en este punto de encuentro del presente y futuro de la cardiología española.
Palabras clave:
Enfermedad cardiovascular
Prevención cardiovascular
Cardiopatía isquémica
Arritmias
Insuficiencia cardiaca
Abstract
CardioMIR, the Congress of Young Cardiologists, is a scientific meeting where the most relevant and novel aspects of cardiology are addressed from a clinical and practical point of view. The third edition of the Congress of Young Cardiologists, held in the city of Valencia on September 29 and 30, 2022, brought together about 400 cardiology enthusiasts, mostly cardiology residents, to learn about the latest developments in cardiovascular disease. The aim of this article is to present a summary of the main topics focused on this meeting point for the present and future of Spanish cardiology.
Keywords:
Cardiovascular disease
Cardiovascular prevention
Coronary artery disease
Arrhythmia
Heart failure
Article
These are the options to access the full texts of the publication REC: CardioClinics