Article information
Abstract
Full Text
Bibliography
Download PDF
Statistics
Special issue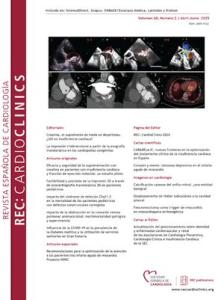 This article is part of special issue:
Vol. 57. Issue S2
Actualización y novedades en cardiología. Visión del cardiólogo joven
More info
Resumen
La simulación, entendida como un método de aprendizaje basado en la experiencia, ha ido ganando protagonismo en los programas formativos en los últimos años. Los escenarios interactivos, reflexivos o incluso con la posibilidad de poner en práctica habilidades no técnicas o recursos técnicos, desde el diagnóstico al tratamiento, hacen de la simulación una herramienta en expansión. La Sociedad Española de Cardiología ha incluido la simulación entre sus actividades formativas, potenciando la formación de docentes, grupos de trabajo específicos y programas formativos durante las distintas etapas de residentes. La organización de esta forma de aprendizaje implica una estructuración adecuada, para lo que resulta indispensable una correcta introducción al escenario o caso (briefing) y, muy especialmente, la conversación reflexiva posterior (debriefing). Con la finalidad de evaluar de forma objetiva los resultados de este método educativo, se han implementado diferentes escalas que permiten valorar cuestiones tan importantes como los conocimientos previos, la percepción propia de los participantes o incluso el impacto emocional de determinados escenarios o situaciones complejas. Con todo, la simulación constituye un método de aprendizaje en crecimiento, con una utilidad clara en la adquisición tanto de conocimientos teóricos como, especialmente, habilidades técnicas y no técnicas, que será cada vez más habitual en el desarrollo de competencias en cardiología y otras especialidades médicas.
Palabras clave:
Simulación
Habilidades técnicas
Habilidades no técnicas
Aprendizaje
Evaluación
Abstract
Simulation is a learning method based on experience, which has become increasingly more present in training programs in medicine. Interactive, reflective scenarios or even with the possibility of putting non-technical skills or technical resources into practice, from diagnosis to treatment, make simulation an expanding tool. The Spanish Society of Cardiology has included simulation among its training activities, promoting the training of teachers, specific work groups and training programs during the different stages of residents. The organization of this form of learning implies an adequate structuring, for which a correct introduction to the scenario or case (briefing) and, very especially, the subsequent reflective conversation (debriefing) is essential. To objectively evaluate the results of these programs, different scales have been implemented. These scales allow the evaluation of several important aspects, such as previous knowledge, participants' perception of the activity or even the emotional impact of complex scenarios. Simulation is a growing learning method, with a clear usefulness in the acquisition of both theoretical and, specially, technical, and non-technical skills. It has become evident that simulation has come to stay, and that it will be increasingly used in skills development of future cardiologists in training and other clinical specialties.
Keywords:
Simulation
Technical skills
Non-technical skills
Learning
Assessment
Article
These are the options to access the full texts of the publication REC: CardioClinics