Article information
Abstract
Full Text
Bibliography
Download PDF
Statistics
Special issue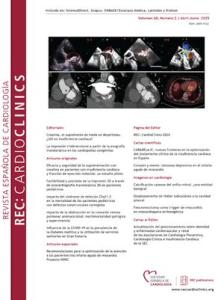 This article is part of special issue:
Vol. 58. Issue S1
Temas de actualidad 2022
More info
Resumen
El presente artículo revisa las publicaciones más relevantes sobre intervencionismo coronario desde el congreso europeo de cardiología de 2021 e incluye los trabajos presentados en ese congreso hasta el 5 de agosto de 2022. Se han revisado los artículos indexados en Medline y Scopus, así como los trabajos presentados en los congresos más importantes.
Palabras clave:
Intervencionismo coronario percutáneo
Imagen intracoronaria
Fisiología intracoronaria
Abstract
This article reviews the most relevant publications on percutaneous coronary intervention between the 2021 ESC congress, including the studies presented in the latter, on August 2022, 5th. It has been reviewed all the indexed articles in Medline and Scopus, as well as the studies presented at the most important conferences.
Keywords:
Percutaneous coronary intervention
Intracoronary imaging
Intracoronary physiology
Article
These are the options to access the full texts of the publication REC: CardioClinics