Article information
Abstract
Full Text
Bibliography
Download PDF
Statistics
Special issue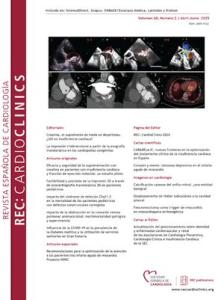 This article is part of special issue:
Vol. 58. Issue S1
Temas de actualidad 2022
More info
Resumen
Las cardiopatías familiares han experimentado un crecimiento exponencial en los últimos años que obligan a la actualización permanente. De la producción científica del último año destacan no solo artículos originales, sino manuscritos de posicionamiento, consenso de expertos y comunicaciones breves de ensayos in vivo de terapia génica. Son notables las contribuciones asimismo en mecanismos moleculares de enfermedad procedentes de grupos de investigación básica y series longitudinales amplias sobre miocardiopatías debidas a mutaciones en genes concretos que permiten extraer conclusiones pronósticas. En el presente artículo se sintetizan los hallazgos más relevantes de 2021 y 2022 con un especial énfasis en los avances clínicos y en la investigación traslacional.
Palabras clave:
Muerte súbita
Miocardiopatía
Canalopatía
Amiloidosis
Genética
Abstract
Inherited heart diseases have experienced an exponential growth in recent years and a permanent updating is required. From the scientific production of the last year, not only original articles stand out, but also position papers, expert consensus and brief communications of in vivo gene therapy trials. Also noteworthy are the contributions in the molecular mechanisms of disease from basic research groups and extensive longitudinal series on cardiomyopathies due to mutations in specific genes that allow prognostic conclusions to be drawn. This article summarizes the most relevant findings of 2021 and 2022 with a special emphasis on clinical advances and translational research.
ATTR: amiloidosis por transtirretina; ATTRv: amiloidosis por transtirretina hereditaria; FV: fibrilación ventricular; MCA: miocardiopatía arritmogénica; MCD: miocardiopatía dilatada; SBr: síndrome de Brugada.
Keywords:
Sudden death
Cardiomyopathy
Channelopathy
Amyloidosis
Genetics
Article
These are the options to access the full texts of the publication REC: CardioClinics