Article information
Abstract
Full Text
Bibliography
Download PDF
Statistics
Special issue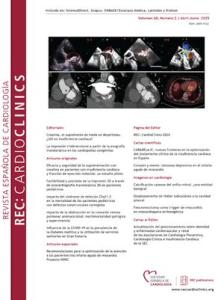 This article is part of special issue:
Vol. 58. Issue S1
Temas de actualidad 2022
More info
Resumen
En este texto ser repasan algunos de los principales trabajos relacionados con el diagnóstico y tratamiento de las enfermedades cardiovasculares más prevalentes en el paciente mayor publicados durante el último año, a la vez que se resalta también la importancia de una adecuada prevención, tanto primaria como secundaria. De igual modo, merecen especial atención entidades tan prevalentes como la cardiopatía isquémica, la fibrilación auricular o la insuficiencia cardiaca. Destaca además el papel de la rehabilitación cardiaca y el intervencionismo estructural que mejoran el pronóstico y la calidad de vida de los pacientes cardiópatas de edad avanzada. Por último, repasamos algunos aspectos importantes en cardiopatías especialmente frecuentes en el paciente mayor como la endocarditis infecciosa y el bloqueo interauricular.
Palabras clave:
Paciente mayor
Cardiopatía
Fragilidad
Comorbilidad
Abstract
In this text we review some of the main studies related to the diagnosis and treatment of the most prevalent cardiovascular diseases in older patients published during the last year, also highlighting the importance of adequate prevention, both primary and secondary. Similarly, prevalent entities such as ischemic heart disease, atrial fibrillation or heart failure. We also highlight the role of cardiac rehabilitation and percutaneous cardiovascular intervention given its prognostic impact and improvement of quality of life in elderly patients with cardiovascular disease. Finally, we review some cardiovascular diseases that are especially common in older patients like interatrial block and infectious endocarditis.
Keywords:
Elderly patient
Cardiovascular disease
Frailty
Comorbidity
Article
These are the options to access the full texts of the publication REC: CardioClinics